Hello all, need a kick up the arse most definitely right now so what better way than to embarrass myself on here.
Current state: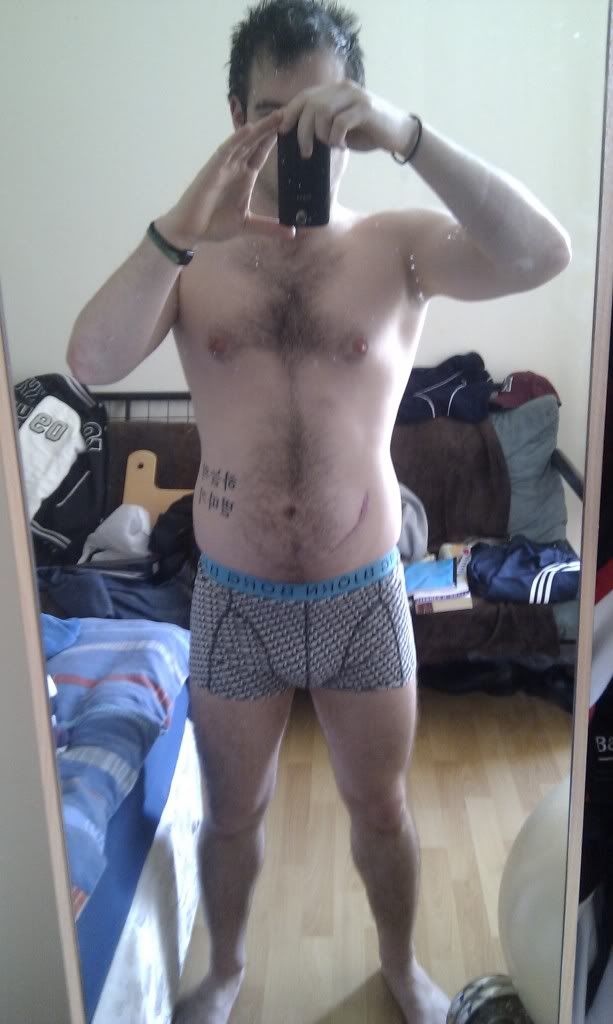 Quite horrified by this as I really didn't think it was quite that bad but alas it is and needs sorted. I've recently been following stronglifts 5x5 as I want to build a strong base before crossing over into more circuit based/antagonist training as frankly I enjoy it more and rest times are for fannies!
Current state is due to another short break there, essentially I thought I was squatting way to wide so tried shoulder width with my ironworks, felt fine and did about 10 sets of 70x5. However when I went into the gym next time my hip was destroyed, so had to rest it a few weeks and now im back squatting, going to stick with a very wide stance as frankly it doesnt hurt while doing this and im best getting the numbers up, can address the stance at a later date. Previous to this I had to get my appendix out which ended up being in the wrong place, nice 15staple job!
So yeah, squats feel fine and im confident the weight will continue up, I have a deadlifting form issue im tweaking - think I will grasp this today, benching is hit and miss - I think the issue is losing tightness in the back when i try to 'explode.' I think I have a weakness in my shoulder which I need to address, advice on this would be much appreciated. I was going to do a couple of sets of DB shoulder pressing after each workout?
Strangely my fitness is still very high in terms of footy/rugby, can easily last the game and im usually one of the most active. Have a lower back issue with slow cardio though, basically get a massive lower back pump after a few mins, currently seeking advice on this. I think its just caused by excessive sitting but as a final year in computer science, I dont have any choice.
Will update with my last few workouts and will be hitting the gym later today.